Aloha  fellow artists and Recording Academy / GRAMMYs (NARAS) Members.
Please allow me to first introduce myself. My name is RJ Kaneao and I'm a native Hawaiian born and raised on the island of Hawaii aka the Big Island. I've been a entertainer since the age 6 and all these years later I'm living my dream as Recording Artist, Producer, Studio Owner and sometime Session Guitarist. I've worked as a professional musicians for the last 23 years or so and a recording artist in the Hawaii music industry for about 18 years. I attended the amazing MI (Musicians Institute) in Hollywood a year after I graduated from high school then returned home to become a full-time musicians. So I've been blessed to see the world doing what I love. I'm also a single father who raised my son since the age of 2 all alone and now expecting my first grandchild (grandson) due on Christmas Day. I'm writing today to humbly ask for your consideration while voting for the 61st Annual Grammy Awards. Artist: RJ Kaneao 
Album: Genres of Soul
Category: Best Traditional Blues Album
 You can check it out at the link below by clicking on the picture/flyer when you load up my website page..
This is my 5th Solo album but my first in the Blues Genre. I originally entered the "Best Contemporary Blues Album" category but the academy has moved me to Traditional. All the rest of my albums were all Island Reggae aka Island Pop but all did considerably well in the Hawaiian market but my love for the Blues could not be held in much longer. With that all said please feel free to comment me with your projects and links as I'm always grateful and honored to listen to all of your amazing music. Much love and aloha to you all.. 
                         Mahalo RJ Kaneao 
•10 Original Songs
•Written, performed & Produced by Myself •2018 @nahokuhanohanoawards Winner (#RandBAlbumOfTheYear)
•Associate Produced by my son Aaron "AJ" Lanui Kaneao (@kanea.o) 15yrs old @ the time of full productions.
•100% produced in my own recording studio Groove Plant Hawaii 
A true labor of love for the Blues Music Genre.. Mahalo (Thank You) for your time..
To Listen to the ENTIRE album click on flyer/photo.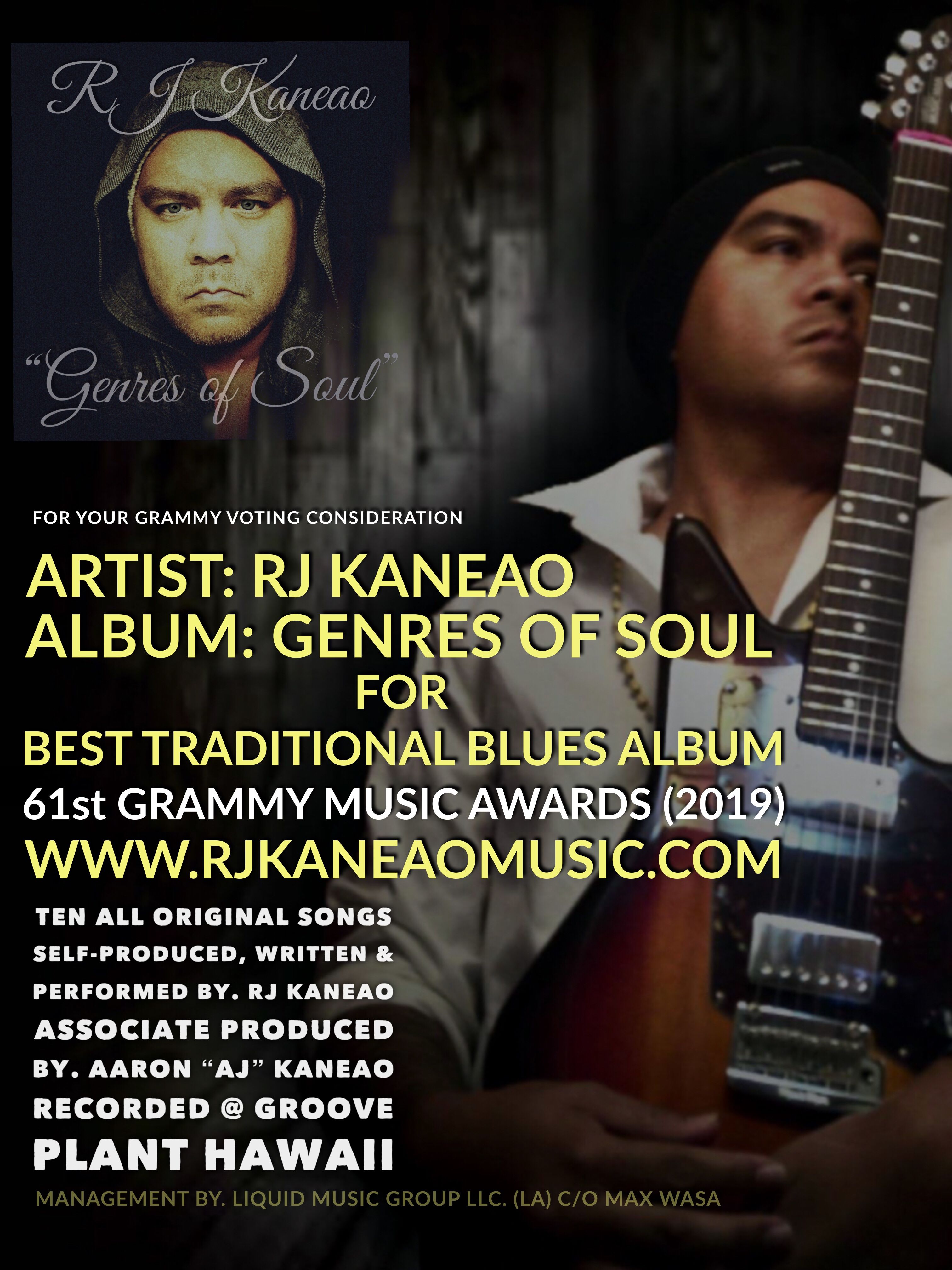 Get the info. you need to know about RJ KANEAO